If you're like most homeowners, you've been thinking about remodeling your home for awhile now. Whether it was out of fear, overwhelm or purely financial, you've cleared your hurdles and now you're ready to get started. 
But before you pick up the phone to start calling contractors, you'll want to take time to do a little inner work. Now, I don't mean start clearing out your closets (that will come soon enough) – I'm suggesting you really think about the "why" behind your remodel.
While every client's motivation for remodeling may be different, almost everyone's reason goes deeper than pretty countertops and new flooring. Digging deep, finding out what's important, and addressing what TRULY matters to you is one of the most important pieces of your renovation puzzle. 
Feelings Matter
Taking time to notice how your home actually makes you feel will help you get to the heart of what you really want and need. 
Depending on the space you want to renovate, ask yourself these specific questions so you can discover the changes that will be right for you:
How do you feel when you walk into the door (unsettled / disorganized / stressed or do you get a peaceful sense of calm)? 

Do you feel like you have your own "adult space"? Or have your kids' toys taken over?

Does your master bedroom feel comfy and restful…like a sanctuary? If not, why is that? What is bothering you about it?

How often do you use your formal dining room? If it feels empty and neglected, then maybe it's time to re-purpose that prime-time real estate.

How do you think your guests feel when they stay overnight? Do they have privacy?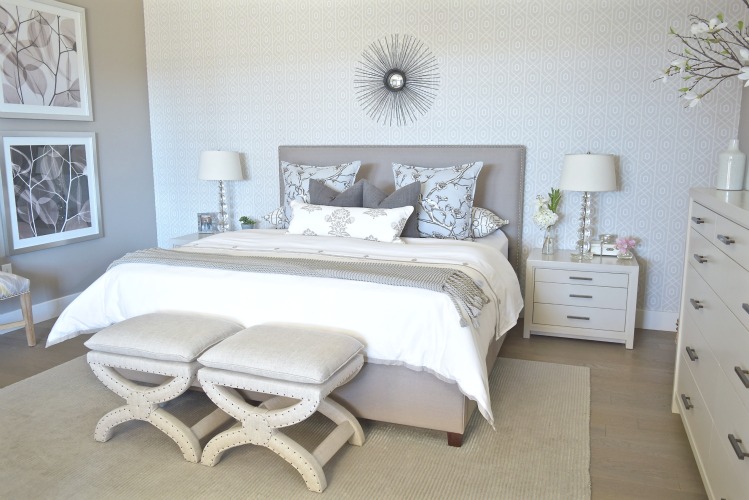 Image: zdesignathome.com
Take your answers to these questions and look for the elements you could add that would help shift your experience in your home. For example, if you feel "stifled" when you walk in the door, then it may be important to open up some walls, or find a way to get more daylight into your space.
If you think about your living room fireplace and it gives you a pit in your stomach (because it's always dirty and you never use it) then maybe consider replacing it with a gas or electric version so you'll actually start to enjoy it.
Tuning into your current (and often uneasy) feelings about the spaces in your home helps to shed light onto the real problem you're trying to solve…feeling better in your home!
Organize the Mind
Once you get to the heart of how you want to feel (and what you may want) in your new space, the next step is to organize your ideas so you can share them with your contractor. 
To ensure you're both on the same page (and save you time and effort) break down your list into the following categories:
Must Haves –

Can't imagine doing a remodel without these items.

Bonus Items –

Would really like to have, but if can't fit it in the budget, you'll live!

Pinch-Me –

Won't lose sleep over it…but boy would it be great to include.
Image: Synergy Design & Construction
Putting your wish-list into these 3 buckets will keep your mind (and pocket book) focused in the right direction, establish realistic expectations and minimize impulsive decisions that can blow your budget. Here's a few pointers to help you create your list:
Start an idea book using online resources like Houzz and Pinterest. Add ideas  when you see something you like at a model home or after visiting a friend's house.

Make a list of the things you don't like in your home. When taking on a big remodel, it is a good time to take care of smaller items since you'll already have a contractor in your house.

Think about how long you plan to live in your home. Although resale is a consideration, if the answer is another 10 years, you may choose to "over-improve" just a bit so you really get to enjoy it the way you want it. On the other hand, if you plan to move within 5 years, you may want to save that wine cellar for your next home!
Now, does doing some of this "inner work" take a little time? You bet! However, it will go a long way towards giving you peace of mind throughout the process.  Understanding the real reason(s) you want to remodel your home (and organizing and prioritizing what you want to get out of it) before you start reaching out to contractors is a critical piece to a zen-like remodeling experience.
If you'd like more insight on how to successfully take on a home renovation, here's my Ten Zen Secrets Download! It is packed with tips on how to ensure your next renovation project is stress-free and fun. The download includes:
Simple ways to minimize disruption to your daily life.

How to set clear expectations with your contractor (before the first hammer is swung).

Tips to prepare your family (including your pet)  for construction disruption. 

…and so much

more

!
https://adaminafies.com/wp-content/uploads/2019/08/Depositphotos_16018497_s-2019-1-1-1.jpg
744
1000
minafies
https://adaminafies.com/wp-content/uploads/2020/01/AdaminaFiesAllGreen_340.png
minafies
2019-08-13 20:39:15
2019-08-14 07:35:59
How To Start Your Home Renovation